P.M. Standley Motorcars Welcomes Carrollton and Dallas Drivers with Open Arms to Its Family
Many used car dealerships around Texas that will talk about their stellar inventories. Many dealerships will discuss financing and service. They'll bring up how no one else does it quite like them. Not many can give you an experience that transcends shopping for a used car, truck, or SUV, but here at P.M. Standley Motorcars, that's our job. We strive to provide a unique experience that's tailored to match the needs of each driver that come through our door. Whether you're looking for a used Ford truck, or you want to try out a used Audi for a luxurious experience, we're the right place to help you find the perfect match.
P.M. Standley Motorcars Provides Family-Friendly Experience for Drivers from Plano and Irving
Our dealership has been a family-owned business near the Dallas area since 1944, when Mr. PM Standley opened up his first used car dealership in Madisonville, Texas. The goal from the beginning was to help drivers find the match that best suited their lifestyle whether it was a used Nissan or a used Jeep. In the 1980s, the idea shifted to supplying major dealerships around the country with a used inventory that was expansive and capable of matching their specific inventories. P.M. Standley Motorcars is now in the hands of Jason Standley, the founder's grandson.  Jason is the Corporate Director and President of PM Standley Motorcars.  Jason and Shannon Standley have been married for 30 years and live on their horse ranch in nearby Copper Canyon, Texas. Their two sons, Aaron and Preston Standley, run the day-to-day sales operations at the dealership and serve as General Sales Managers.
The car dealership has been in the family for generations and has established itself as a premiere pre-owned dealer that makes sure its drivers are happy and satisfied with every choice that they make. That's why we strive to provide a pre-owned inventory that matches your style and preference. Dallas drivers can find used Honda, used GMC, and used Kia models that match their driving style including the ever-popular all-wheel drive feature to handle off-road adventures.
For Lewisville drivers who want a bit more from their used vehicle experience, check out our certified pre-owned inventory. These used cars come with a higher price tag than most normal used models, but they also ensure that quality is at its highest level. We put each through a rigorous testing process and each used model has to meet a series of criteria to earn our stamp of approval and the certified pre-owned brand.
We aren't just a used car dealership that puts you at the wheel and expects you to venture into Dallas driving without providing a complete experience. Our friendly and knowledgeable staff will walk you through the complete process of buying a used vehicle from our dealership, including how to make it work with your monthly budget. Whether you're a fan of an auto loan, or you would prefer to try out a lease, we'll make sure you find the right finance plan for you.
And, that's not all we offer! Once you leave the dealership in your used Chevy, we're here for when wear and tear starts to rear its ugly head and requires some routine maintenance to get you back on the road in no time flat. Our service center offers premium car care at a convenient time for your busy lifestyle. Simply give us a call and we'll help determine what's going on with your used convertible. Then, we'll get you back on the road in no time flat!
Dallas Drivers, Get the Best Used Car Buying Experience with P.M. Standley Motorcars Today!
We've been providing world-class customer experience for decades and we plan to keep on doing that for as long as we can. We offer many events through our dealership, including the Classic Car Show where classic car enthusiasts can come together and share their love for sleek-looking hotrods. No matter the experience you're looking for, we're happy to help assist in any way we can!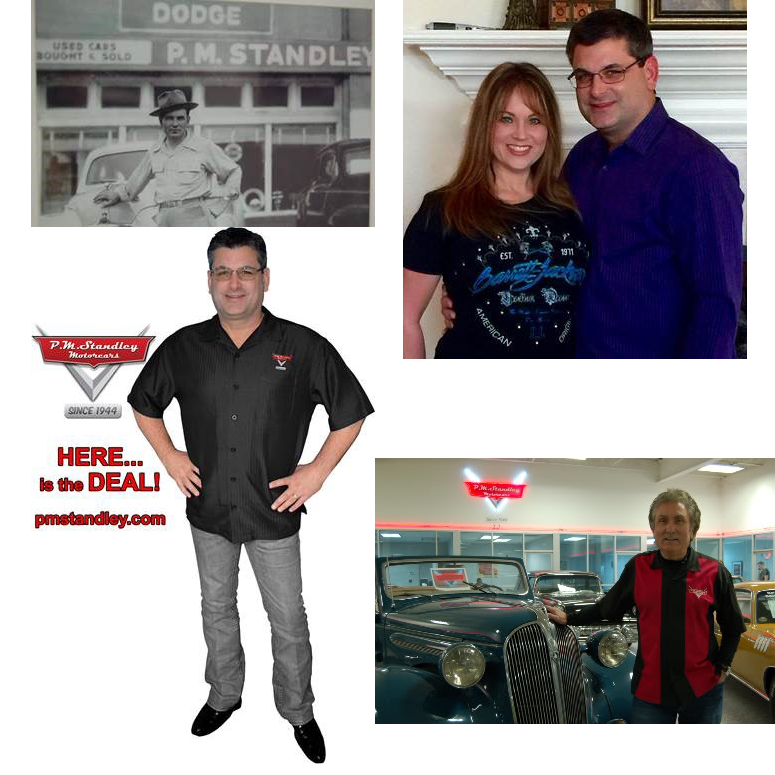 Hours
Monday

9:00AM - 6:00PM

Tuesday

9:00AM - 6:00PM

Wednesday

9:00AM - 6:00PM

Thursday

9:00AM - 6:00PM

Friday

9:00AM - 6:00PM

Saturday

10:00AM - 5:00PM

Sunday

Closed
Directions
Get Directions